Chat is Vector's newest feature for interacting and creating new communities!
With it, you can interact with traders and investors on your platform, create communities and closed conversation groups, and also share Vector custom settings quickly and dynamically.
To get started, click on the groups icon as shown below: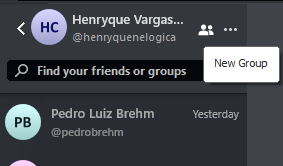 Next, a new window will open for you to pick the group's name, photo and privacy settings, as well as whether everyone can join or only invited traders could join.
If you choose "Everyone" the group will be available for all Vector users to participate. When choosing "Guests Only" you will have to find the participants and add them to the group.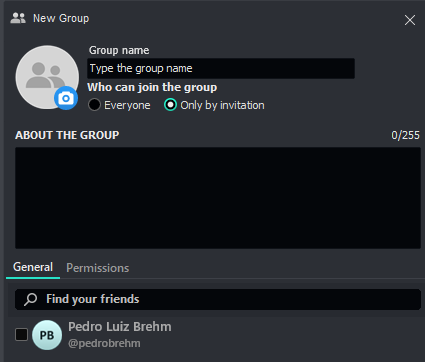 In the search field, just type username, display name or email to find the traders you want to invite to your group. Also, by checking the box next to the name, you will already be selecting the participant for your group.
Once you have found all the participants you want, just click on Create and you're done! You can start interacting with your group.
After the creation of the group, you, as the owner, will be able to manage permissions for the other members. By clicking on the group name and then on the member, clicking on (

) you can:
- Promote to Group Administrator;
- Allow sending messages or just viewing;
- Remove from group (temporarily);
- Ban from the group (definitely);
Additionally, you can also select the permissions of new contacts in your group, block invitations from other groups within it, and more in the "permissions" tab: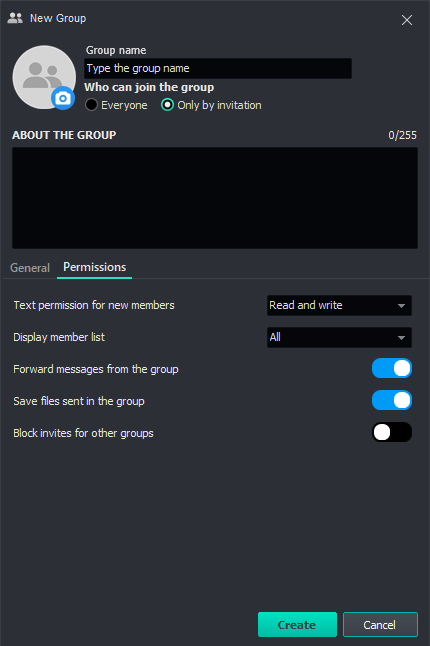 If your group is "Public", you can also send invitations to access other groups or directly to the users you wish. Just click (

) and then "Invite to Group".

You can select multiple contacts and send the invitation quickly at once!
Hey! Was this content helpful?
Please rate it below! It's important that we work together to make our Help Center even more complete.
Happy trading!