Did you know there are two fundamental metrics used to anticipate trends?
We are talking about Inflow and Outflow.
In this article, you will learn about Inflow and Outflow indicators and how monitoring exchanges' cryptocurrency inflow and outflow movements can help you create strategies, maintain or close positions, and identify whether it's a Bull or a Bear market.
What are Bull and Bear Markets?
In financial terms, the words "bull" and "bear" are used to describe the up and down movements of the market, which represent the behavioral tendencies of investors. Bull and Bear markets impact cryptocurrencies in opposite ways, making it possible to take advantage of and make good investments in both these cycles.
You will now understand the concepts of Bull and Bear markets and how they relate to the flow of cryptocurrencies coming in and out of exchanges.
What happens in a Bull Market?
A Bull market is characterized by an upward trend that represents optimism, confidence, and high expectations from investors of continuous profit on any price level, so prices continue to rise.
It is difficult to predict when market trends may change since they are directly affected by the psychological effects of speculation. According to financial analysts, a Bull market is characterized by price raises of 20 %, usually following a 20 % drop, and before a second 20 % drop.
The Buy and Hold strategy necessarily involves confidence. After all, why hold an asset unless you believe in its valuation? For this reason, the optimism that comes with the Bull market helps to fuel the "buy & hold" feeling.
How to Recognize a Bear Market?
A Bear market is caused by a loss of confidence and a generalized pessimistic feeling from investors. The SEC (US Securities and Exchange Commission) defines the Bear market as a "wide decline in the market index of 20 %". Price drops reflect investors' negative expectations and fear, creating selling pressure, further lowering the asset value.
The Bear market might become scary for investors. Nobody likes to see the value of their portfolio decreasing, but it can also be an opportunity to invest in the long term since assets are being traded at lower prices.
How do Bull and Bear Markets relate to Flow?
It's time to explain what the relationship is between market trends and the flow of cryptocurrencies. It's less complicated than you think. Let's imagine two scenarios: a bullish and a bearish one.
As mentioned earlier, during the Bull market, there is optimism and confidence. When an asset is bought to hold, the flow of cryptocurrencies is directed from exchanges to personal wallets, generating a temporary shortage in the market, further contributing to the asset's appreciation. This movement is called Outflow.
On the other hand, when experiencing the beginning of a Bear market, the holders, in an attempt to reduce their losses, invert the previous flow, moving the cryptocurrencies from their wallets to the exchanges, increasing the offer, and lowering the asset price. This movement is known as Inflow.
Bitcoin Inflow and Outflow
The Inflow and Outflow indicators point the direction of the cryptocurrencies' flow. The image below shows the Network Data tool on the Vector Pro platform.
Knowing how to interpret this information is a great differential in setting up your operations.
When analyzing the Inflow indicator, we can see that the volume of Bitcoins that entered exchanges in the last 24 hours is 36.29 thousand BTC: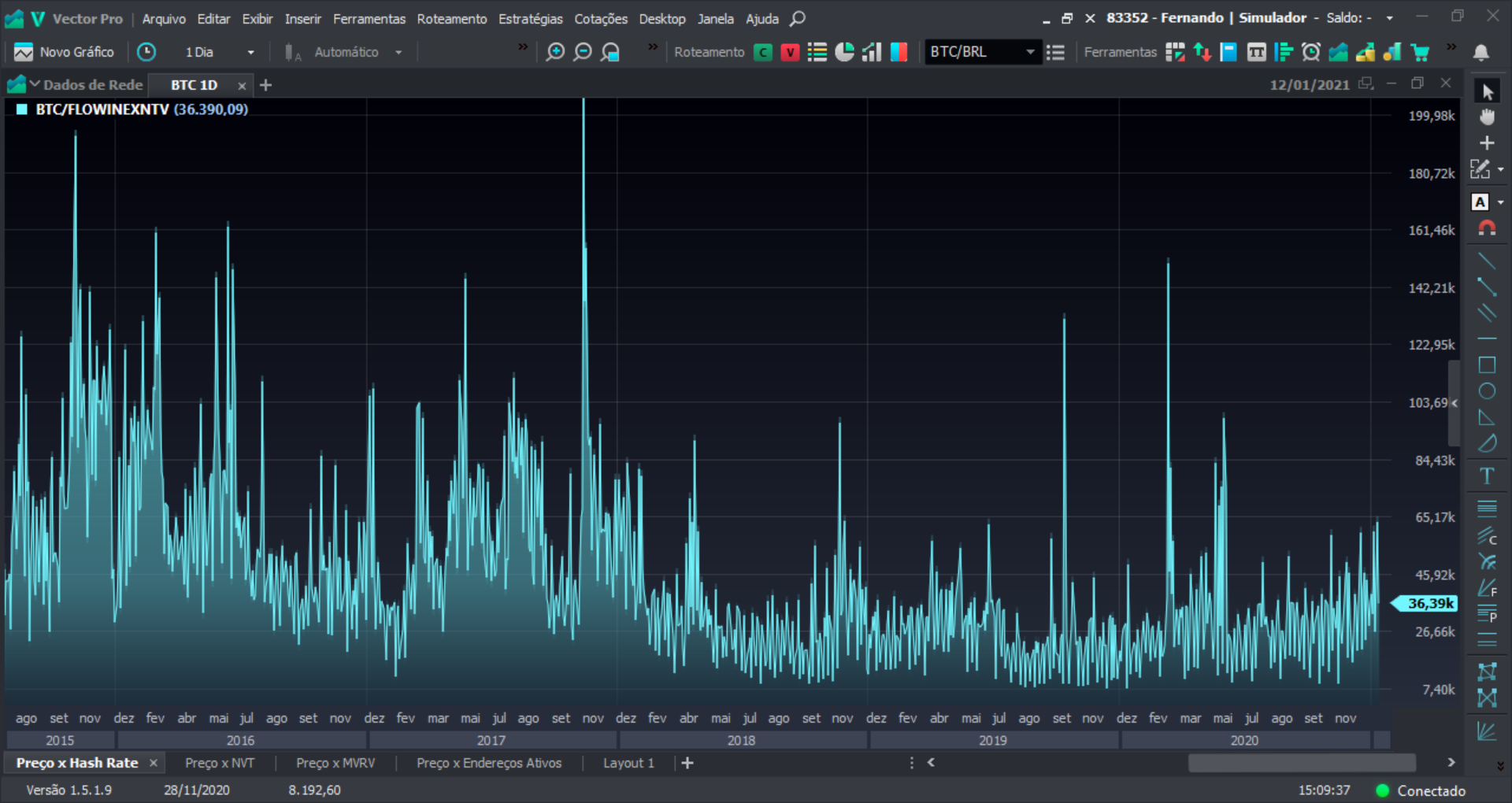 On-Chain Data: Bitcoin Inflow Indicator
In contrast, the Outflow indicator shows us that 44.09 thousand BTC left the exchanges in the last 24 hours: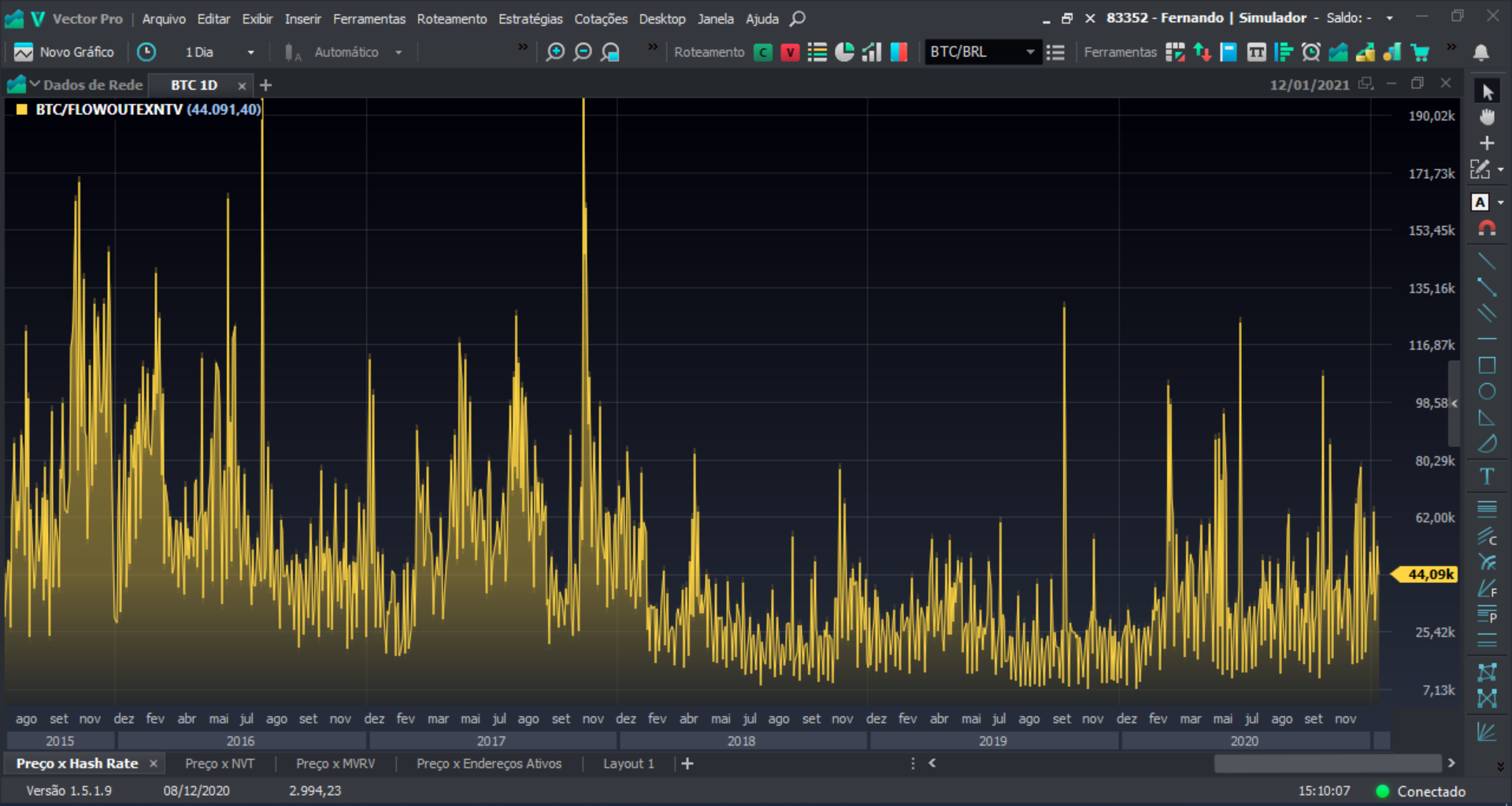 On-Chain Data: Bitcoin Outflow Indicator
Comparing both indicators, we can assume that the market remains positive, with a greater number of holders, indicating buying pressure, which consequently raises the currency's value due to scarcity: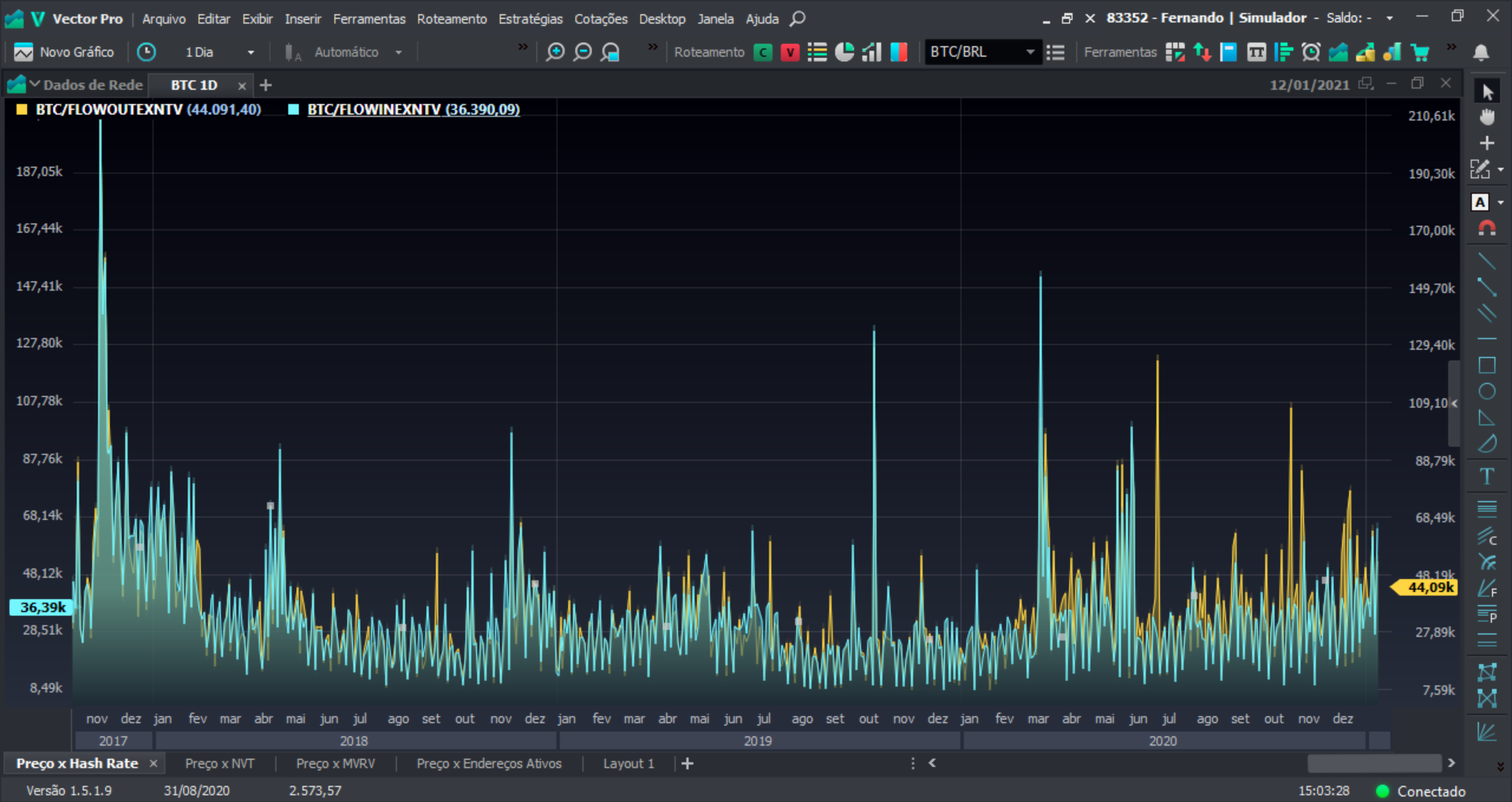 Graphic: Inflow x Outflow
This ratio is fundamental to your decision-making because whenever an institutional investor positions himself to buy or sell on a large scale, you will be able to identify, in the difference between the inflow and the outflow, whether the trend will continue or change.
Hey! Was this content helpful?
Please rate it below! It's important that we work together to make our Help Center even more complete.
Happy trading!