For your platform to achieve the best possible performance, the designated computer needs to meet a few technical requirements.
On your platform, access Help > Support > System Diagnostics.
The window below will display the information regarding your computer:
Obs.: this diagnostics will be different in each computer, this is just an example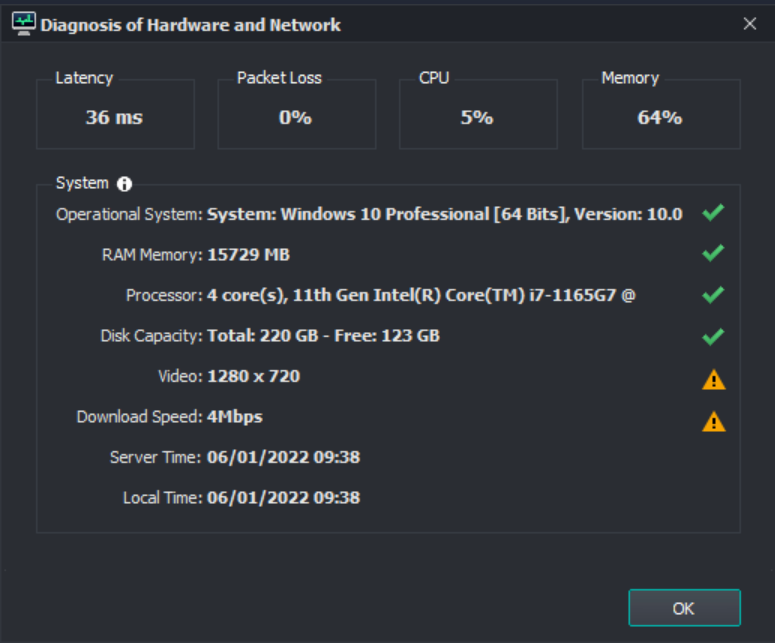 Note how Operational System, RAM Memory, Processor and Disk Capacity have a green flag on the right side.
This indicates that these items meet the Minimum Requirements recommended by our analysts, contrary to the Download Speed item, which has a yellow alert icon next to it. Place your mouse over the icon to identify the minimum requirement for that item.
In this case, the minimum requirement for the Download Speed is displayed below:

If any items on the System Diagnostics display yellow alerts, write it down or print a screen image, as you may need it later. If you don't know how to print an image of your screen, please click here.
Let's proceed to the 2nd step?

Click here to be redirected to it.
Hey, did you find the content of this article helpful?
Don't forget to rate us below! We know how important it is for us to work together so that we can make our Help Center even more complete!
Good trades!