Available in all versions of the Vector platform, the Market Capitalization tool enables the simultaneous collection of several economic data from the network's main crypto assets.
Similar in appearance to the Quote Grid, this tool displays very relevant information that can directly affect your trading strategies.
Access this feature on the Tools menu, selecting Market Capitalization: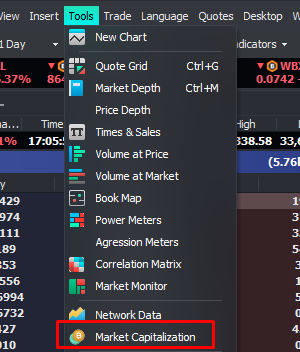 The columns displayed are as follows: Name of the crypto asset, its Ticker (Abbreviation), the Market's Total Value, the Price in Fiat currency (set in USD by default, but can be altered), the number of Offers available, the daily Variation, and the Dominance factor.
The Dominance column is directly related to Market Value and represents the size of the slice that the crypto asset is occupying in the market. The higher the value, the higher the percentage of dominance.
These data are compiled based on these crypto assets' average prices in the main exchanges, thus generating the estimates displayed in the tool.
The base currency (the Price column's quoting) can be modified directly in the tool, clicking the option highlighted in the image below:

Access the Base Currency menu to change the standard currency (USD) for any other option on the list: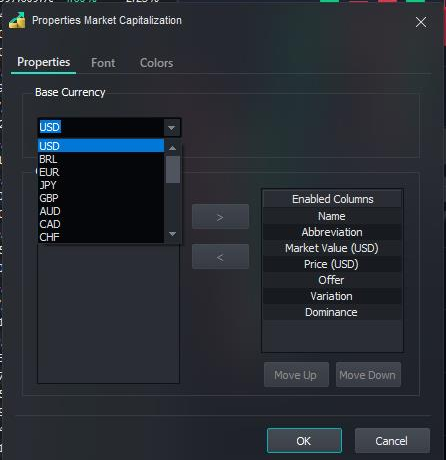 It's important to highlight that the gross value will always be shown in USD. If another currency is selected, the platform will automatically convert based on the current exchange rate. For this reason, the conversion will arrive at an estimated value.
Hey! Was this content helpful?
Please rate it below! It's important that we work together to make our Help Center even more complete.
Happy trading!